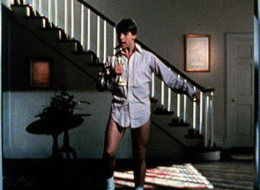 OK: who chipped the glass egg on the mantlepiece?
I am back, my lovelies. And while I wish I had grand tales to regale you with, I have but three little words. I. Am. Tired.
I just wanted to tell you that in an effort to counteract the whole "cut your own bangs" debaucle, I went for an eyebrow wax the night before leaving. Which was a great plan, and would have worked if I had answered "no" to the question the lady at the salon asked me, which was... "Do you want a lip wax to go with that eyebrow wax?"
You see: I have Never Had a Lip Wax. While there are other areas where the carpet and drapes don't match, I am thankfully blessed with blonde hair on my upper lip.
But lately my blonde locks have become a bit--what's the word---oh yes, BUSHY and I feared I was starting to look a bit like this guy:
So I said: YES! to the lip wax. YES! YES! YES! Confident that the red moustache would fade before my appearance in Hotlanta, and I would be able to show off my new lipstick: Palin Pink Piggie.
What I was unprepared for was a reaction a day later that involved numerous oozing postules across my upper lip. Seriously: I broke out worse than a fifteen year old who ate a bag of hershey kisses before prom night. At least six of those suckers--red, irritated, and swollen. Using concealer was like throwing a paper cup of water on the Towering Inferno.
It was so bad that at the Sales Meeting yesterday morning, I had to tell the assembled sales force that I DID NOT HAVE HERPES. They looked sympathetic-one kindly offered to get me some Neosporin--but still refused to kiss me.
Thus ended forever my experiment with waxing places never before waxed...
Sorry, Sexyhusbandomine.