I know it is tomorrow, but most of today will be spent at The Spawn's school-where ComplicatedBoy is performing in the 3rd Grade play. His big line is: "Announcing-The Teams of the NFC" but yesterday he mistakenly said "Announcing-The Teams of the KFC" which is ironic, since Kentucky Fried is wayyyyy too healthy for us, but not as bad as it could have been if he had gotten even more creative with the letters F, C and K. Whew.
So Chickens, here are some great Thanksgiving Day quotes to read at your computer while you should be doing something more productive. I hope you and yours have a wonderful day. I am thankful for my family, my friends, my health, and obviously, GOOGLE would be at the top of the list today.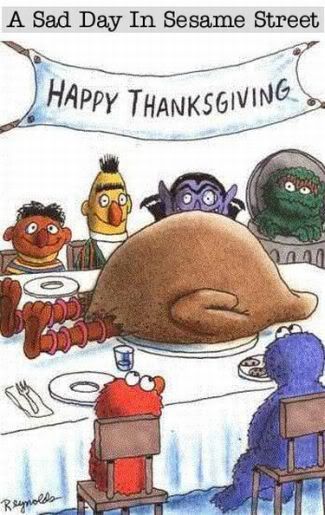 George Carlin
We're having something a little different this year for Thanksgiving. Instead of a turkey, we're having a swan. You get more stuffing.
Erma Bombeck, No One Diets on Thanksgiving
What we're really talking about is a wonderful day set aside on the fourth Thursday of November when no one diets. I mean, why else would they call it Thanksgiving?
Jon Stewart
I celebrated Thanksgiving in an old-fashioned way. I invited everyone in my neighborhood to my house, we had an enormous feast, and then I killed them and took their land.
Johnny Carson
Thanksgiving is an emotional holiday. People travel thousands of miles to be with people they only see once a year. And then discover once a year is way too often.
Kevin James
Thanksgiving, man! Not a good day to be my pants.
What are you thankful for?