While other Mommies were instructing their spawn about how to tie their shoes or sound out their letters, I was busy teaching the Fruit of my Loins the difference between Raw Sienna and Burnt Umber. At 18 mos. if you asked the Banana what her favorite color was, she would answer "Magenta." I literally started their artistic instruction when they were both in diapers.
Which explains why sometimes they pooped cerulean blue.
This past weekend we went to the HOWL festival in the East Village.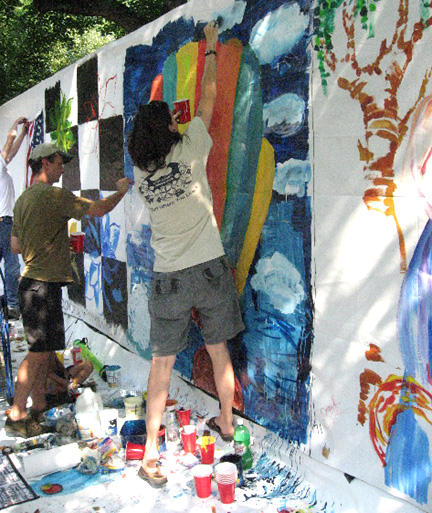 HOWL is a crazy wackadoo art festival with huge murals created in front of your eyes by New York City artists, bands, puppet shows, and the occasional cross dresser. Very fun for The Spawn, very fun for Sexyhusbandomine and me, ( if we can ignore being asked "Mommy, why is that man wearing a bra?" the 1500th time it is asked. )
At HOWL I found what I think is one of the Coolest Things Evah. For $20, you can purchase a six by six canvas from The Six By Six Gallery. After you return your finished artwork, you get a one month gallery exhibition (complete with hoity toity wine and cheese Friday night opening), a 3 month on-line gallery exhibition, and an unprecedented 80/20 split of the sale (you name your price.)
HOW AWESOME IS THAT?!? Mommy can BUY you an art career! Which of course, I did. And I could not wait to see what the Spawn did with their canvases. Banana was called away to help Scooby Doo solve an urgent case that involved the haunting of a deserted mine, but CBoy got out the acrylics and got right to work.
What would my little Rembrant make? What fabulous masterpiece would be produced by my petite Picasso? My mind could ONLY IMAGINE....
It never imagined this.
Either I have a highly disturbed child, or he is a GENIUS who realizes at age eight that there is a huge market for really bizarre clown art.