It's the MOST WONDERFUL TIME OF THE YEAR! Scratch that... I meant to say: IT'S THE HAP- HAPPIEST SEASON OF ALL! You know-much mistletoeing and hearts are a-glowing and we're of good cheer.......
I Love Everything about Christmas!!
(except the song "I Saw Mommy Kissing Santa Claus" which for some reason just really annoys me. Especially the John Mellencamp version. Who ever thought a violin could sound exactly like a three year old whining?)
For those of you who have never experienced Christmas in the Big Apple, I thought I would write a few posts about what the Season is like in New Yawk. All of these posts will be titled Silver Bells, so feel free to skip them if you are a Hater of Whoville. However: there will be no Figgy Pudding for you...I'm just sayin....
We kicked off the season with a trip to Radio City Music Hall to see The Rockettes in the CHRISTMAS SPECTACULAR. This show is...what's the word I'm looking for....oh yeah: SPECTACULAR. Lots of leg kicks, and Santa, and a 5 minute version of the Nutcracker danced by teddy bears, and real ice skaters and a double decker bus and...
LIVE ANIMALS in the nativity scene. AND OH--and little people dressed as elves. And sparkly costumes. And "Joy To The World" sung as a jazzed up Gospel tune by a quartet dressed as bellmen. And Fake snow falling from the ceiling! DOES IT GET ANY BETTER THAN THIS? I think not! One could get her tinsel in such a tangle that she just about pees her pants...which is quite possible given the 25 minute wait to use the Ladies Restroom.
Everyone had a great time with just a few complaints: Sexyhusbandomine said the woman behind him was eating a hotdog and drinking white wine throughout the performance. so every scene was accompanied by the aroma of sausage and chardonnay. I told him he should have used his imagination and pretended it was chestnuts roasting on an open fire. He did his usual eye roll thing which I'm pretty sure is going to equal One Big Bag of Coal, mister.
Tonight we are buying our CHRISTMAS TREE!! We will not be bundeling up in our car and driving out to a farm to cut one down. We will be going where most New Yorkers go to get their tree..... outside our local drugstore, where some nice people from Canada have a tree stand.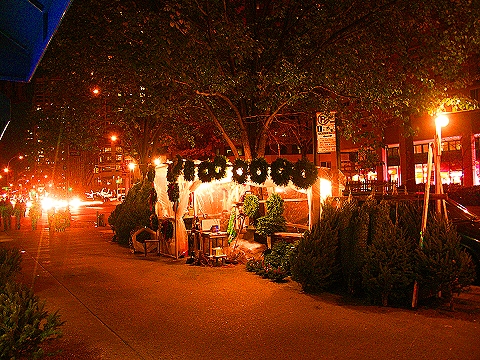 An eight foot Douglas Fir will run you $150, an eight foot Frazier Fir will run you $160. We may need to go with this
What's a Christmas tree run in your neck of the woods?